Ultrasonic Disinfection Tunnel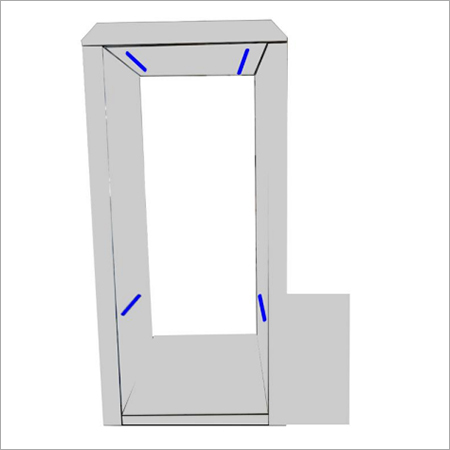 Ultrasonic Disinfection Tunnel
Price And Quantity
Unit/Units

1000-2000 USD ($)
1000.00 - 2000.00 USD ($)
Product Specifications
Product Description
XDTD - 03ultrasonic disinfection fog humidification mechanism for the device in order tofacilitate delivery, design for fission type structure, the frame of foursurface, and then by screws, very easy and convenient, easy to install. Insidethe host USES the integrated type ultrasonic atomization module, the moduleintegrated water protection, over temperature protection, reliable to ensurethe normal humidifying atomization, quiet operation, low noise, atomizing highefficiency, low failure rate, simple maintenance.The box body is made ofstainless steel, with beautiful appearance and convenient inspection. It isequipped with standard water supply port, drainage port and overflow port. Thewater level is automatically controlled by float ball valve or solenoid valve.
XDTD - 03ultrasonic disinfection fog humidification mechanism by the door frame 1, spraymachine, self-priming pump, spray machine bucket beside it when using automaticpumping can, if use disinfectant, the disinfectant (piece of) directly allocateto complete in the bucket (dilution rate will be subject to you buydisinfection products), 1 root sprayer is equipped with the power cord, feedline 1 root, a connection to the water supply, on the other side to put insidethe bucket, plug, switch on, wait for 6 minutes began after spray water tankwater reached certain level.
ÂÂ
Installationinstructions:
1. Try touse pure still water to avoid water impurities too blocked outlet.Water as faras possible can not contain oil, or affect the effect of fog.
2. Putthe spray main machine outside the equipment door and make it rain proof.
In orderto facilitate the delivery, this equipment is designed as a split structure.The door frame is composed of 4 sides and fixed by screws. It is very simple,convenient and easy to install.
About thequality assurance: the core accessories in the water tank of the spray machine-- the atomization plate is guaranteed for one year, the factory sellsdirectly, there is a quality problem within 3 months, we will return to thefactory for repair, the repair cost is all borne by us.Warranty for one year,after the warranty, if there is a failure, we only charge the cost of materialsand accessories, we are the source of the factory, really can achieve goodquality, affordable price, no middlemen.
Note: if the disinfectant is added according to the proportionof the product specification, otherwise the disinfectant is added moreatomization plate corrosion failure is not guaranteed.And the suggestionchooses the green environmental protection disinfectant.
Use themaintenance
1. Thehumidifier is a precise and vulnerable equipment.Handle and handle gentlyduring installation and handling to prevent excessive vibration from damagingthe equipment.
2. Thecabinet is placed smoothly and connected to the water pipe for filling. Theequipment will automatically add water to the optimal water level.Make sure theconnection is correct, then power on.Run for 10 minutes or so to the normalspray state, if the fog is not ideal, you can adjust the knob.
3. Inorder to ensure the spray effect of the equipment, the water tank of theequipment needs to be cleaned regularly. The cleaning period of the water tankshould be once a week.
Trade Information
15 Days

Sample costs shipping and taxes has to be paid by the buyer
Contact Us
Renda S & T Park, Shiyan Town, Baoan District, Shenzhen, Guangdong, 518108, China
Phone :+8618820268771